Advertising is what I do. Well, it's what I do to pay the bills. So I figured it only fitting to list the best recent TV ad campaigns. It's a tough call, and of course there is quite a degree of subjectivity. But suffice it to say that each of these campaigns has both cultural as well as industry cache. And, importantly, they deliver for their clients (after all, ads are supposed to sell!).
5. Burger King: "The King"
Legend has it that Alex Bogusky,
the current rock star
of the ad industry and creative director of Crispin Porter + Bogusky, asked the head honchos on the first day the agency had the business, "You're Burger King. Why don't you have a king?" The King was born...and he's been skeeving people out ever since with his inappropriate glances, inappropriate touching, and insistent meat peddling. You know what though? His highness has paid off - and started a cultural revolution around the character, from Halloween costumes to Xbox games. Kneel before your Burger King!
4. Apple: iPod
Talk about ads that "get it." The iPod spots make you want to dance. They make you want an iPod. They capture the absolute joy and energy of having your music at your fingertips. These ads have also made songs into hits. And made singers into ad-men. You see, Apple didn't ask Bono and U2 to endorse them and make a commercial. Bono and U2 asked Apple! These ads are just one of the many reasons every brand wants to be Apple.
3. Skittles: "[Blank] The Rainbow"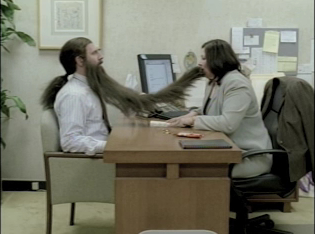 Touch the rainbow. Share the rainbow. Chocolate the rainbow.
Taste the rainbow.
This campaign is about as strange as strange can be - but the ads are so distinctive, funny, quirky and, yes, award-winning. From the beard that feeds skittles to the HR director...to the man whose touch turns all things to candy...to the human pinata whose co-workers thought he was filled with chocolate...this campaign has yet to disappoint.
2. Geico: "Cavemen"
So simple, a caveman could do it. A fantastic value proposition for Geico.com...until the cavemen find out about it and launch a lawsuit. The premise is astoundingly off the wall. But what makes these spots is the incredible timing and delivery of the zany dialogue by these douchebag cavemen. Ad geeks everywhere get chills when they hear the line, "I'll have the roast duck, with the mango salsa." Personally, my fave of the bunch was the therapy session featuring Talia Shire. In any case, the cavemen have made a permanent impact...so much so that they even inspired a failed sitcom. Way to go, fellas.
1. Apple: "I'm Mac...And I'm a PC"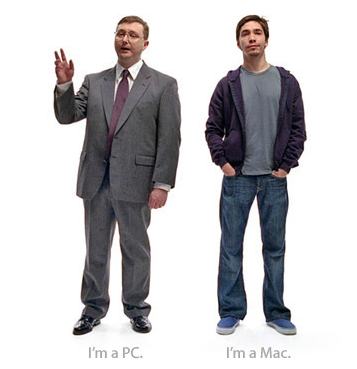 Don't tell me you don't stop your DVR/Tivo every time a new Mac/PC ad comes on. This running serial has such an incredibly simple premise: characterize the Mac and PC brands as human beings. The scenarios are endless. The characters have even transcended the brands they were meant to represent. And, strangely enough, thanks to John Hodgman's brilliant comedic chops - we actually feel bad for PC! PC makes the spots so good! And Justin Long represents everyone's inner hipster in a hoodie sweatshirt. Every brand and their brother has tried to parody these spots, and with good reason. It's simply a fantastic campaign that has incredible "legs."