People are always quick to point out that pro wrestling is fake. Just a bunch of overgrown he-men in spandex pretending to fight for a niche group of fans. But that's a very narrow-minded view when you consider the incredible entertainment value (and revenue) WWE spectacles can generate - not to mention the mainstream crossover power. As many of you may know, "The Nature Boy" Ric Flair just retired. He is considered by many as the greatest in-ring performer of all time. And he has had some crossover success (he recently was on the campaign trail with Huckabee and got a shout out from his state senator - WOOOO!). But Ric only scratched the surface of
mainstream crossover approval
. And by that, I mean wrestlers who transcended their sport to become accepted in mainstream media/life as more than just grapplers. That will make my #1 choice a bit controversial for some, but I'm going to stick to my powerbomb on this one.


5. Andre The Giant

The gentle giant. A man who's heart literally grew to a size too big for his body. And his body was nearly 8' and over 500 pounds, if that gives you any idea. Andre was a dominant force in professional wrestling and - try as the industry did to make him a villain or "heel," - he was simply too beloved and too kind to be hated. Andre crossed over with his beloved role in
The Princess Bride
. He is a cultural icon. And he is missed.
4. Randy "Macho Man" Savage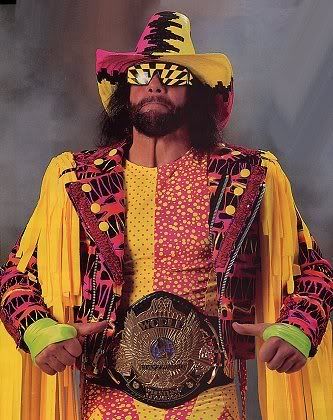 When anyone impersonates a wrestler cutting a promo, most times they are in some way impersonating the Macho Man. OOOOHHH YEAH! Known in the ring for his patented flying elbow and lovely valet, Miss Elizabeth, Macho reached critical mass appeal when he became the spokesman for Slim Jims. SNAP INTO A SLIM JIM, OOOOOH YEAH! That slogan was as much a part of the 90's cultural lexicon as "Don't have a cow, man," all thanks to Macho. Randy's been out of the pro picture for some time, but stepped back into the squared circle for a cameo as Bonesaw in
Spiderman
.
3. Jesse "The Body" Ventura
He started as one of the most prolific and flamboyant heels in the wrestling biz. Then he became the color-man for Gorilla Monsoon and Vince McMahon. Then he became the governor of Minnesota. What?? Mainstream appeal doesn't get much stronger than election to major public office. Slammy points for The Body's turn as Blain in
Predator
, in which he delivered the classic action hero line, "I ain't got time to bleed."



2. Hulk Hogan

He is The Immortal. The Icon. Yeah, brother. Hulk Hogan took pro wrestling and five star frog splashed it into contemporary pop culture in the 80's. He said his prayers, ate his "vitamins," and unleashed Hulkamania on the world when he let his 24" pythons run wild on us. He's been in movies, on TV, on reality TV, on lunchboxes. You name it, he's done it. Currently, he's hosting the new
American Gladiators
and is producing a celebrity wrestling reality show. I, for one, am excited. Oh, yeah, brother!
1. Dwayn
e Johnson (aka: The Rock)
True, there would be no Rock without Hogan. But The Rock has done something that Hogan has never been able to do: mainstream, big budget, Hollywood films.
Most importantly, he's transcended his wrestling persona.
Hogan, no matter what, is always Hulk Hogan. The Rock is a character. Dwayne Johnson, the charismatic, sharp-looking, highly intelligent former football star from The University of Miami is whatever he wants to be. He'll be seen this summer in the new
Get Smart
film with Steve Carell. But don't let all this crossover success fool you. The Rock still knows how to lay the smack down on the roody-poo candyass of any jabroni who just brings it. And that's why The Rock is #1...if you smeeeeeeeeellllll. What The V-List. Is. Cooking!