Recent numbers suggest that NBA viewership has endured a massive renaissance; in this year's playoffs alone, viewing audiences have tuned into games at a 27% higher clip than last year, when fans were tuning into a stinkfest of a Finals bout in the form of Cavs/Spurs. The 2008 resurgence of the NBA could not have come at a better time. During Game 6 of this year's NHL Stanley Cup finals, viewers simply were not watching, as the contest pulled less than a one point share in the Nielsen ratings. The NFL has attempted to pilfer headlines, with the retirements of Favre and Strahan, talk of a Chad Johnson trade, Matt Ryan's gargantuan contract draw, and Terrell Owens's failure to comply with performance-enhancing drug policy. MLB, with the exception of Ken Griffey's flirtations with homerun hitting history, has seen a decline in interest, as balls are not leaving the park at the clip that they used to. The BCS refuses to adopt a playoff system in college football and horse racing has seen another Triple Crown hopeful (Big Brown) fizzle. With all that has happened to the league in the past year, the NBA has risen as a more than respectable league, thanks in part to several incidents, issues, and player performances (not to mention the beautiful Rachel Nichols's coverage of the NBA on ESPN).




5. Our nation loves a scandal, and the NBA is currently struggling with one.


What were you up to in 1994? Probably watching the intricacies of the O.J. Simpson trial unravel right in front of your very eyes. What intrigued you most about the Clinton administration? His ability to reach citizens of varying incomes or his cigar-smoking fetish with Monica Lewinsky? Knowing what our nation craves most, you probably followed the latter, albeit darker, portion of Slick Willly's reign in office more closely. This revealing statement about our nation's psyche suggests that we either (1) love to watch people fail or (2) watch people fail in hopes a said individual/group/administration can battle the adversity a scandal bestows upon its victims. Bill Clinton obviously had his followers, seeing as how his campaigning nearly earned his wife, the first female prospect for office, the Democratic nomination. Clinton has his supporters, namingly for his ability to show the American public that he is human after all, even if it came at the expense of tainting the most vaunted position of global leadership. Which brings us to the NBA. Tim Donaghy, one-time NBA referee, has been banned from officiating games for his ties to organized crime and controlling the integrity of any given contest. In his most recent testimony to the FBI, Donaghy implied that the 2002 and 2005 NBA playoffs may have been altered greatly by the shrewd handling of games' outcomes by officials. The league has also been overwhelmed by its 'thug' persona (i.e. Ron Artest's brawl in Detroit) and attention to me-first superstars. Even so, every sports fan closely observes the happenings in the NBA, simply because he wants to see how David Stern and his team of administrators can handle the heat.





4. Old teams are relevant again.


In recent memory, the Chicago Bulls have put together a string of winning campaigns, but have not truly amounted to the success the organization realized through Jordan's tenure with the club. With the inception of a new coach (Vinny del Negro) and the winning of the first pick in this year's draft (hello, Derrick Rose!), the Bulls, with the tremendous talent they have already amassed, will challenge the Pistons and Celtics for Eastern Conference supremacy. Hell, even the Knicks are starting to embrace its offensive potential for a coach (Mike D'Antoni) that thrives off of a run-and-gun offense (a scheme the Knicks have the personnel for). The Atlanta Hawks, who have not enjoyed playoff success since the years of Dikembe Mutombo and Dominique Wilkins, had enough talent to give the Celtics, owners of the NBA's best record in 2008, a reason to second-guess much of what they did in their opening round series with the Joe Johnson-led ball club.




3. ABC has put together an esteemed broadcasting team.


Only two years ago, the NBA on ABC was simply unwatchable. Not because of the style of play, but because of what its team of incompetent broadcasters did to ruin its product. Al Michaels, he of Monday Night Football fame, could not call a game for his life and Bill Walton stumbled over the simplest phrases, names, and calls on a regular basis. Now, even a a Bucks/Timberwolves broadcast is enjoyable, given the opportunity to engage in the analysis of the illustrious Mike
Breen, Jeff Van Gundy, and Mark Jackson. And if that weren't enough, the legendary Hubie Brown would enter the booth every now and again. Mike Breen can rightfully be touted as

t

he voice

of the NBA, just as Van Gundy has proven that he can impartially discuss the progression of an NBA contest as well as he could coach it. Complement these two with the entertaining persona of Mark Jackson, and you have yourself a brand of broadcasting that is second to none. All things told, not even Sunday Night Football's John Madden and Al Michaels or ESPN baseball's Joe Morgan and Jon Miller could compete with the team of analysts that ABC grants the microphones to on a nightly basis.




2. The league has compiled a band of players worth watching.


Chris Paul. Steve Nash. Dwyane Wade. Kevin Garnett. Kobe Bryant. Lebron James. Tim Duncan. Although hardly the tandem of Jordan, Magic, and Bird, these riveting names will go down in NBA folklore as legends beyond compare, especially when you consider that (1) James, barely old enough to consume alcohol legally, evokes the great Oscar Robertson, (2) the Bryant/Jordan comparisons are not as laughable as they once were, and (3) Duncan may go down in NBA history as the best power forward to ever grace the hardwood. Combine that with the youth of players like Paul, Wade, and Deron Williams, and the NBA is a force to be reckoned with. Sidney Crosby of the NHL, touted as the next Wayne Gretzky, has not lived up to the hype the way the Kobes, Wades, and Lebrons of the sports world already have.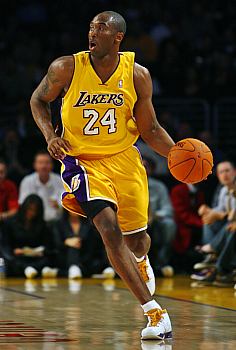 1. Lakers/Celtics all over again.


The Garden in Boston is again rocking with raucous chants of 'Beat L.A.' not heard since their last finals match-up in 1987. Celtic executive Danny Ainge, through savvy trades that delivered Kevin Garnett, Ray Allen, and Rajon Rondo for next to nothing, has put together a team built for championship-caliber play, as their 2-1 lead in the current NBA Finals suggests. Kobe Bryant, clutch-scoring extraordinaire, has often deferred to the likes of Pau Gasol, Sasha Vujavic, Derek Fisher, and Andrew Bynum to win ball games throughout L.A.'s very own reincarnation of Showtime-style basketball. In channeling Jordan, who himself would allow Scottie Pippen and Toni Kukoc to carry the scoring load, Kobe Bryant might very well win a ring without the aid of Shaquille O'Neal, who helped Kobe win three championships. A win for either organization will pay huge dividends: Lakers coach Phil Jackson would have an unprecedented 10 championships to his name and the Celtics would show why New England

is

professional sports' Titletown. This rivalry, akin to Yankees/Red Sox, Yankees/Dodgers, Duke/UNC, and Michigan/Ohio State, is exactly what the sport needs to prove itself as a product worth enjoying. Just ask Magic Johnson, who proclaimed in the last issue of

Sports Illustrated

, "This finals match-up is just what America wanted."